Raleigh Episcopal Campus Ministry, a ministry of the Diocese of North Carolina, welcomes all college students in the Raleigh area. Come just as you are to our radically open and inclusive community. Come and connect your spirit, without disconnecting your mind. Come for conversation, not conversion. Come and share love, mercy, and justice with people and the planet.
Upcoming Events for ECM:
Sunday August 16th: Opening Eucharist
The first service of the fall semester, at the regular 12:30pm time.
Wednesday August 19th: Fall Semester Begin Cookout
We will kick off the start of the 2015/16 year with a cookout after the first day of classes, at 6:00pm.
Wednesday August 26th: Bonfire Hangout
Join us to get to know the ECM community better, at 6:00pm!
Friday August 28th: Evening at Lake Johnson
Enjoy the end of summer with us at the lake! Meet at the Cheshire House at 4:00pm.
Sunday September 13th: Visit from Bishop Curry
Bishop Curry will be coming to the Cheshire House for an Episcopal visit, as well as Confirmation at 5:30pm on Sunday, September 13th.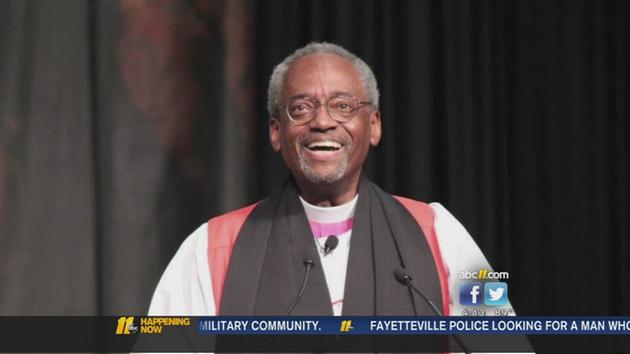 Bishop Michael Curry, of the Diocese of North Carolina, elected Presiding Bishop of the Episcopal Church
Anyone wishing to make a financial donation to our work may send a check to:
Raleigh Episcopal Campus Ministries | 2208 Hope St. | Raleigh,  NC | 27607
        or donate through PayPal