Raleigh Episcopal Campus Ministry, a ministry of the Diocese of North Carolina, welcomes all college students in the Raleigh area. Come just as you are to our radically open and inclusive community. Come and connect your spirit, without disconnecting your mind. Come for conversation, not conversion. Come and share love, mercy, and justice with people and the planet.
Upcoming Events for ECM:
Mondays, 12 – 1pm: Freshman Lunch in Talley Student Center
Saturday Sept 19th, 1 – 4pm: Baking for Shackathon
In the Cheshire house kitchen!
Sunday Sept 20th, 8am: Shack Building
Building the Unity shack in the Brickyard
Sunday Sept 20th, 12:30pm: Morning Prayer and Lunch in the Brickyard
Wednesday September 30th: ECM goes to St. Augustine's
Dinner and education on the Episcopal Farmworker Ministry to prepare for our fall break trip.
October 8th – 9th: Fall Break trip to the Episcopal Farmworker Ministry
Do you ever wonder where your food comes from? It is harvested by farmworkers. Many of those folks work right here in North Carolina, just a few miles away. Our lives are intimately connected with people that we never see. Come with us to the farmworker ministry and meet some of the people who harvest your food and share Christ's light and love with them.  If you would like more information or to go to the farmworker ministry, please contact Mother Deborah at Deborah.fox@ecm-raleigh.org.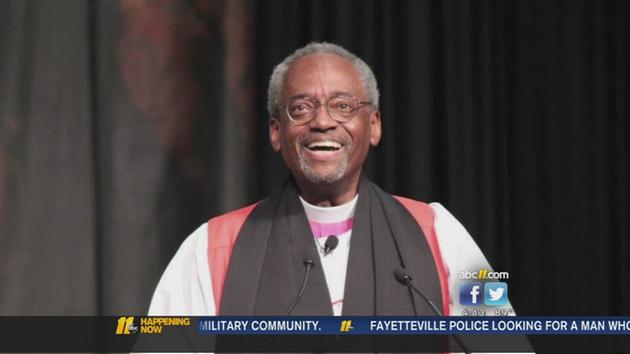 Bishop Michael Curry, of the Diocese of North Carolina, elected Presiding Bishop of the Episcopal Church
Anyone wishing to make a financial donation to our work may send a check to:
Raleigh Episcopal Campus Ministries | 2208 Hope St. | Raleigh,  NC | 27607
        or donate through PayPal